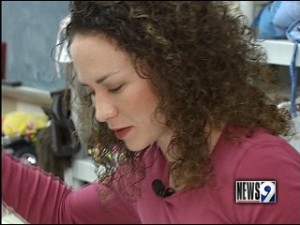 Our founder and president, Courtney Gregg, started All Things Baby, Inc. in 2006.
The LORD put the tragedy of abortion on her heart and she felt led to provide women in "crisis pregnancies" with the items they needed during pregnancy and after the baby was born. All Things Baby, Inc was housed in Courtney's garage and she gave out items from her own children and a few friends gave items their children had grown out of. She advertised at local pregnancy centers and delivered the much-needed items to the mother's homes. Soon the LORD grew the ministry to its current location at 405 W. Second Street. At first the ministry was housed in a 1,000 sq ft. warehouse but in early 2009 we acquired the office space that adjoined the warehouse. That has allowed the ministry to expand into more one on one care and other special events.
Although our roots are in abortion prevention, we know the "crisis mode" of life can extend far beyond the birth of the child.
We want to provide for all families, those with children and those who are expecting. The LORD so graciously gives his love and forgiveness to us, we seek to give just as freely.
Below are pictures of how our offices and warehouse have changed!
[fusion_builder_container hundred_percent="yes" overflow="visible"][fusion_builder_row][fusion_builder_column type="1_1″ background_position="left top" background_color="" border_size="" border_color="" border_style="solid" spacing="yes" background_image="" background_repeat="no-repeat" padding="" margin_top="0px" margin_bottom="0px" class="" id="" animation_type="" animation_speed="0.3″ animation_direction="left" hide_on_mobile="no" center_content="no" min_height="none"]
[/fusion_builder_column][/fusion_builder_row][/fusion_builder_container]